Moroccan is a country full of art, it is a world where everything is subject to aesthetics, refinement, and leisurely pleasure. Morocco is known for its exquisite interiors of the riad, beauty rituals in the Moroccan hammam, a skillfully prepared meal from homemade ingredients, and Moroccan tea.
The best place to immerse yourself in the centuries-old traditions and culture of Morocco is the medina of Marrakesh, or Fez, where people live in riad houses, some of them dress in jellabas and live a simple life.
In the Atlas Mountains and the desert, you will get acquainted with the Berber culture and enjoy the natural beauty. However, Marrakesh has also a luxury side for luxury travel. You can find luxury hotels, 5 stars hotels. spas and restaurants.
Why should book Morocco Luxury Tours with us?
Our Mission is to provide you with a unique travel experience in Morocco.From thoughtfully selected tours and itineraries to expert travel advice from our travel team who has a lot of experience in the field.
We travel constantly to different cities in Morocco to look for new and unique accommodations, restaurants, and places for activities to provide our guests with unforgettable experiences that last a lifetime.
We carefully select our tour and itineraries. Our strict screening process provides you with the best quality of tours possible. In terms of accommodation, we deal with the best hotels in the country. Moreover, we always choose the best driver and tour guide who will accompany you throughout your journey, and we constantly monitor our travelers' satisfaction through email or reviews.
At She & Co Travel Morocco, we strongly believe in eco-friendly travel and work hard to support the environment as well as the locals where we organize our Morocco tours. We also focus on offering tours in exotic locations, away from mass-tourism places, so you can get most of your luxury travel. We have enjoyed all the tours we are offering and are excited to share all of them and more with you.
Morocco is full of unique and none touristy places for travelers who prefer luxury travel in the country. In this article, we are sharing some luxury places and activities you can do when visiting Morocco, especially in the red city of Marrakech
Stay in a luxury accommodation in Moroccan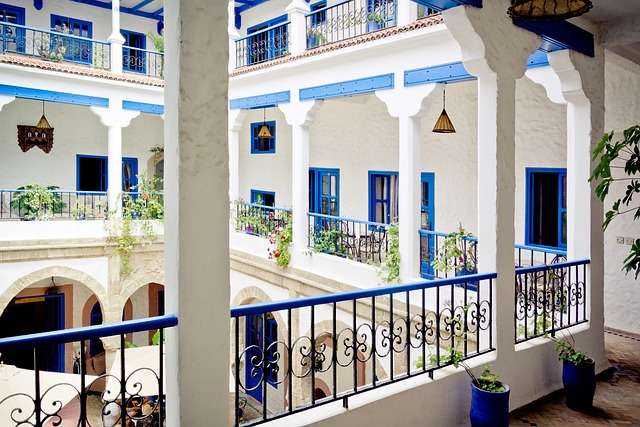 The best hotels in Morocco are located in cities such as Marrakesh, Casablanca, Rabat, Tangier, and Fez. Prices for hotels and riads vary greatly depending on several conditions – proximity to the medina (ancient city ), design, history, etc. Some popular places have hotels and riads not exceeding 4 stars, such as Chefchaouen, Essaouira, and others.
Riad is a traditional Moroccan house converted into a hotel with a small number of rooms. All riads in Morocco are ancient, some are several hundred years old. The rooms' sizes vary from one Riad to another, but they are very authentically decorated with fabrics, furniture, and interior items. Almost all Riads overlook the courtyard which is in the middle. So the audibility here can be higher than in hotels. The atmosphere and the design of the are unique in their way, which must be booked many months before your holiday here.
Go camping in the Sahara Desert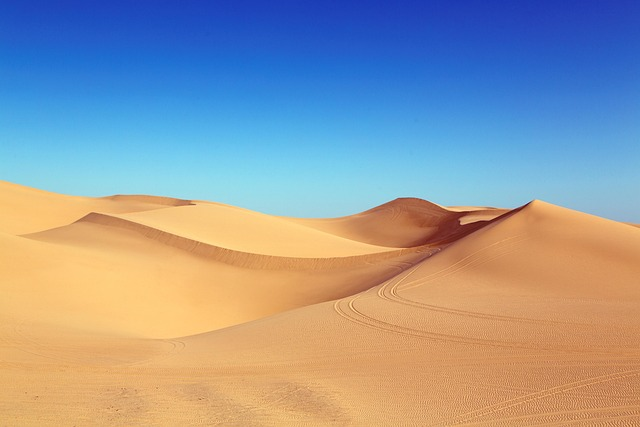 Camping in the Sahara Desert is a special type of recreation among the dunes under a tent in the Desert with entertainment activities. The luxurious atmosphere in the camp with authentic Moroccan details and furniture, private candlelight dinner, and camel riding is a great ideas for a romantic vacation!
Travelers always make sure to include the Sahara desert in their Morocco tour packages. Also, experience "Desert camping" with a five-star service in the middle of the desert.
One of the famous Sahara deserts is Erg Chebbi in Merzouga, it is located in the eastern part of the country. This is where the dunes begin near the border with Algeria. Merzouga is around 550 kilometers from Marrakesh, and the journey to the desert is amazing through the beautiful landscape of the Atlas mountains.
For a better experience in the desert, you need to choose the best time to visit the Sahara. The Desert is hot during summer but cold on winter nights. However, the camps are well-equipped.
Luxury Desert camp
A camp is a fascinating place in the middle of the dunes. The camp is well equipped with tents, beds, a lounge area, and a private shower. To reach the place, a 4×4 car will be at your service or ride a camel to reach the camp.
If the sky is clear, you will be able to enjoy the sunset from the highest dunes and the beautiful sky full of stars at night.
What to do during the day?
Usually, only staff remains in camp during the day. You can ride jeeps and buggies on dunes and a Swimming pool in one of the luxury hotels in the middle of the Sahara – isn't it the best place for a pool party?
Take a Balloon Ride Over the Atlas Mountains During your Morocco Tours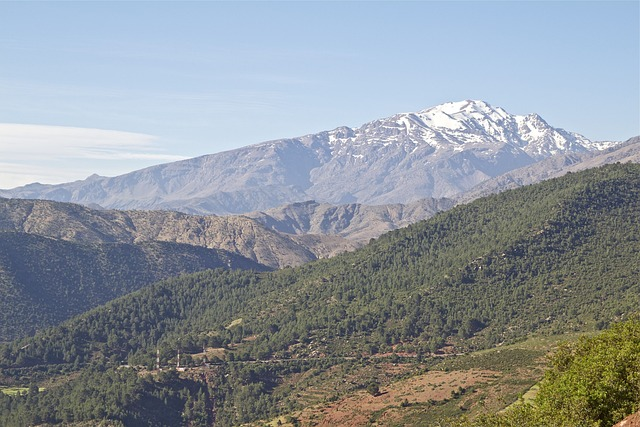 Have you seen photos of Morocco from the air? Snow covering the Atlas Mountains, fantastic desert landscapes, oases, Berber villages, rivers, and palm groves? Through this experience, you will never need to look at the photo because we will fly in a hot air balloon ourselves and enjoy this beauty from the sky.
Early in the morning our team will pick you up from your hotel and go to a palm grove near the city. While drinking a cup of mint tea, the balloon will be prepared for the flight. You can also participate in this process from the beginning to the end.
We will spend at least an hour in the air, meeting the sunrise and admiring the views. A balloon can fly equally well at an altitude of one meter, or an altitude of a thousand meters. So, How high we will rise to depends on the weather and the courage of the participants!
After landing, everyone will receive a flight certificate. And then in the colorful tent of nomads, we will have a real Berber breakfast. However, other breakfast menus are also available. In the meantime, let's look at amazing household items, musical instruments, adobe wells, and goats and try on the outfit of the Tuaregs.
Enjoy dinner and a show at Agafay Desert
You can't visit Morocco without visiting the Sahara desert. However, it's around 10 hour drive to get to the nearest dunes of the Sahara. If you are short of time, we offer you to visit the small desert near Marrakesh called Agafay, which is just a 45-minute drive from the city center.
The Agafai Desert consists of rocky dunes and is almost as beautiful as the Sahara. We can have a walk around the desert and its surroundings on ATVs (which can be replaced by a camel ride), and on the way, we will stop to relax with local Berbers and drink tea with them.
Our journey will end in a luxurious camp, where you meet the sunset over the desert. At night you will have a Moroccan dinner in a private luxury tent especially. Let's admire the myriad stars in the Moroccan sky, in an peaceful atmosphere.
If desired, you can spend the night in the desert in a luxurious tent (well equipped with all the facilities) with the atmosphere of an expedition from an ancient era and all the treats of a 5-star hotel.
Enjoy the Ultimate in Luxury Morocco Experiences: a Relaxing Hammam Spa Treatment
The Moroccan hammam is an experience that you need to try during your trip to Morocco. Hammam is not an attraction for tourists only, but an integral part of the life of any Moroccan.
Morocco honors the old traditions of maintaining beauty and health with natural cosmetics products and herbs. In numerous Berber pharmacies, you can buy traditional cosmetic products, Phyto-teas, and oils for massage and aromatherapy.
Moroccan beauty rituals widely use argan oil and cactus seed oil, black olive soap, gassul clay, rose water and orange blossom water, henna, and aromatic oils.
Moroccan luxury hammam ritual
The Moroccan hammam is different from the Turkish hammam. The ritual of the hammam begins with relaxation and the application of black olive soap to the body with massaging movements to soften the skin. Then a body gommage (scrub) is made with a hard mitten of the cass, during which the dead layer of skin is removed.
After that, if desired, you can make a body and hair mask of ghassoul clay or henna. Afterward, you get a little rest and a glass of mint tea, and a relaxing massage with argan oil is done, which nourishes and rejuvenates the skin. Natural essential oils in the massage oil helps to relax and cheer up.
After the Moroccan hammam, you will feel that you have passed a decade and gotten rid of all worries and tiredness!
Luxury hammams
The luxury Hammam can be found in different cities in Morocco, and you can find them in luxury hotels. They are designed for the most demanding customers and offer the services of high-level professionals in fabulously decorated interiors.
Our team at She & Co Travel Morocco has a partnership with different luxury Hammams, we will pick the best Hammam for you to get profitable daycare packages. which includes a hammam with gommage, access to the pool, lunch, and much more.
Have a Fancy Lunch at La Mamounia
Hotel La Mamounia successfully combines luxury palace decoration, traditions of Moroccan aristocratic housing, modern five-star amenities, and an excellent location.
La Mamounia is a highly recommended hotel to travelers who visit Morocco for the first time and want to experience a luxury tour in the country. It is a win-win choice due to its proximity to the main attractions of Morocco's most visited city Marrakesh. They have great service, stunning details, and elegance of the interiors will ensure the undoubted pleasure of this experience.
The history of La Mamounia dates back to the XII century. It was an oasis under the fortress walls of Marrakech. Six centuries later, Prince Al Mamoun received these magnificent gardens as a wedding gift from his father and gave them his name. In 1923, La Mamounia first opened its doors as a chic Arab-Spanish-style hotel with elements of the popular art deco at that time.
Since then, the hotel has been visited by world-class figures such as Churchill and Charles de Gaulle, Charlie Chaplin, Edith Piaf, Elton John, Marlene Dietrich, Yves Saint Laurent, Paul McCartney, Hollywood stars, famous writers and politicians of the first magnitude. Everyone left the shine of their presence in the atmosphere of La Mamounia.
The magical gardens of La Mamounia could also tell their stories. The garden is full of olive trees that had been planted centuries ago before they were presented to Prince Al Mamoun. Moreover, it has 1,200 varieties of tropical plants that decorate alleys and flower beds, There are orange trees, peaches, bright bougainvilleas, fragrant Madagascar periwinkle, and a variety of palm trees and cacti.
Do not forget all this magnificent place is located close to the historical center of Marrakech – the Medina. Just a short walk separates this luxury hotel from the crowds of the Jamaa El Fna square. However, on the territory of the hotel – only the calm luxury of a green oasis, birds chirping, and the murmur of fountains.
Marrakech is an extraordinary city in itself. The combination of the traditional Moroccan lifestyle, exotic colors, and aromas of North Africa with a chic and bohemian cosmopolitan atmosphere, makes it unique and everyone visiting the city fall in love with it. It's safe here, and even in the interweaving of narrow streets of Medina, near the market or the souk full of colorful benches selling everything in the world, you feel quite comfortable.
In addition, Marrakesh is a trending city. Fashion designers actively use Moroccan motifs in shoes and clothes (remember, for example, soft shoes for women and men with crumpling heels that have been so popular for several years). Moreover, the elements of Moroccan interior decor have become the basis of the bohemian style so loved by modern architects, and they can be found everywhere in private and expensive hotels.
Concerning the way of life of local people is quite traditional, and modern. You can find local people still maintaining the traditional way of clothing. Whereas you can find others wearing modern clothes, or mixing modern and the traditional Moroccan outfit (just because it is beautiful and convenient for the local climate). In short, people here are very friendly, they peacefully coexist with tourists in these narrow colorful streets. They are happy to welcome tourists from all over the world.
The style of La Mamounia hotel is unmistakably Moroccan, with magnificent details made by Moroccan craftsmen such as lace stone, wood carving, colored mosaics, an amazing play of light and shadow, arches, carved cornices, and shutters, and traditional copper lamps in different styles.
The hotel offers three types of regular rooms to accommodate guests (if the word "normal" applies to all this splendor). The room size is from 28 to 45 square meters. If you want your room to have a balcony or terrace, choose a Deluxe room. Then there are four types of suites (from 55 to 100 square meters), then six "name" suites, each with its history and unique theme, and finally three traditional riads – traditional Moroccan villas ranging from 700 square meters each, with spacious patios, swimming pools, three bedrooms, living room, kitchen.
In general, in order not to get confused about this variety of rooms and choose the right one according to your taste and budget, contact us. Our team will take care of the booking, and also suggest the best time to visit Morocco
In Addition, the hotel has 4 restaurants, each one of which has a name that makes it easy to determine their "specialty": Le Marocain, L'Italien, Le Français…The Moroccan restaurant is considered one of the best in Marrakech.
Visit the Yves Saint Laurent Museum & Majorelle Gardens
The Majorelle garden
It was founded in 1930 of the last century by French Orientalist artist Jacques Majorelle, It took about 40 years to create it. After his death, the garden fell into desolation, and in 1980 it was bought out and revived by the famous couturier Yves Saint Laurent, who fell under the charm of Marrakesh, and he was one of the first Western celebrities who decided to settle in the Red City. Here he got the inspiration for his collections.
The garden is famous for its rich collection of tropical plants and cacti, picturesque ponds, and pavilions of bright blue color, which is called "blue major. After the death of Yves Saint Laurent, his ashes were scattered in this garden.
On the territory of the garden, there is the Berber Museum, which is very small and contains a personal collection of Berber accessories and jewelry of Yves Saint Laurent.
Yves Saint Laurent Museum
The name of this great fashion designer is inextricably linked with Marrakech. Saint Laurent first visited the Red City in 1966, and since then the color of its noisy streets and bazaars has become one of the main sources of inspiration in his work.
Saint Laurent owned the Majorelle Garden and a villa in Marrakech, where he came annually to work on his collections. His connection with Marrakech was so strong that even the ashes of the couturier were decided to be left in Morocco after his death.
In October 2017, a museum in his honor was opened in Marrakech, together with the museum of the same name in Paris. It presents to the public about 5,000 items of clothing and 15,000 high fashion accessories at ever-changing exhibitions.
In the branch of the museum in Marrakech, you can see around 50 pieces of clothing created by the designer, his sketches, and photos. Temporary exhibitions on fashion, contemporary art, design, and anthropology are also held here. Special attention should be paid to the architecture of the museum as if recreating the texture of the fabric.
Small group luxury tours Morocco
We organize private luxury tours in Morocco for individuals and small groups. We have a talented team who will assist you from the beginning to the end of your tours, and also customize a unique itinerary just for you with lots of surprises. You only need to contact us through this link.